Trumpets can be expensive, which is why many choose to buy used trumpets from websites such as eBay and Craigslist. Selling an old, used trumpet is also a good way to make money. However, before buying or selling used trumpets, there are a few things that you should know.
Buying A Used Trumpet
There are many pros and cons of buying a used trumpet from a site such as eBay rather than buying a new trumpet from an established retailer.
Pros
Cheaper than buying new
Availability of discontinued models
Cons
No manufacturer warranty
Some used horns are costly to repair
Possibility of falling for a scam
Pros
Undoubtedly the biggest advantage of buying a used trumpet is the lower cost compared to a new trumpet. Sellers will list their used trumpets at a considerably lower cost compared to the price of the same trumpet at a retailer.
Price decreases for used trumpets are usually between 20% and 70% depending on condition and age. This is so that those who are looking to buy a trumpet will buy from them instead of buying a new model.
For most sellers, they have upgraded or are no longer interested in the trumpet, so they can sell it for a low price as they do not have much value for it anymore.
Another advantage of buying used trumpets is the discontinued models that are available. Every now and then, trumpet manufacturers will discontinue a model. This is so that they can focus on a better version, create a new model, or to just focus on their other trumpets.
Sometimes these discontinued models can be the perfect type for some people. If you wanted to get your hands on one, you would have to buy it from a site such as eBay. This gives used trumpets a bigger variety as there are modern trumpets sold in store available used as well as many of the old, discontinued models.
Cons
You have probably experienced or heard of a story of someone buying an item off eBay or Craigslist and the item never arriving. This is one of the issues when buying used goods from websites such as these.
It is unlikely that this will happen, especially if you know how to tell what is a scam, but it is always something to keep in mind.
Tip When Buying Used
Always check seller feedback and be cautious if the price looks too good to be true. If you can, pick up the instrument in person so you can have a good look at it before you fork over your money.
Of course one of the downsides with buying used goods is that they have been used. In the context of a trumpet, this could mean dents, rust, scratches, etc. Cosmetic defects like scratches will not necessarily affect your playing abilities or the sound produced, but the trumpet will not look as nice.
Then there are damaged trumpets which need to be fixed. Things that can be fixed include small dents, soldering work, valve alignment, etc. However, sometimes it is cheaper to buy a used or new trumpet that doesn't have damage as the cost to repair can be very expensive.
Then there are trumpets that have extensive damage. This includes large dents, cracks and major rust. If the trumpet is seriously damaged, it is not worth buying. The ideal used trumpet to buy is one with some purely cosmetic imperfections or one that is in like-new condition.
Selling A Used Trumpet
If you have upgraded to a new trumpet, it is not a bad idea to sell your old trumpet for some extra money.
Where to sell used trumpets
Where you sell your trumpet can largely affect the speed of sale and how much money you receive. Here is a list of some of the most popular options:
Pawn Shops
The advantage of selling directly (not pawing) to a Pawn Shop is how fast the transaction can be made. You can walk in with almost any item and in a few minutes be walking out with money.
Unlike eBay, you don't have to wait for a customer to buy your item. The pawn shop buys it off you and then sells it to the customer which speeds this process up considerably.
The disadvantage is that pawn shops are renowned for undercutting and not paying a fair amount for items. If you are in need of a speedy sale, this is a good option, but if you want to be paid reasonably then pawn shops should be avoided.
Local music shops
Selling to a local music shop is similar to a pawn shop in that you can come in and leave in a few minutes with money in your wallet. One of the advantages of local music shops is that they would have a better understanding of what the instrument is, and you are likely to get paid a higher price for it.
However, not all local music shops buy used goods so do some research if you are considering this option. If you're picking up another instrument instead, maybe because you're upgrading from a student trumpet to a professional trumpet, you might negotiate in-store credit for your old horn.
eBay
With eBay you can easily list your item from your home, so you don't have to go anywhere to sell it (except the post office to ship the trumpet). Your item can also get a lot of exposure, likely more than any other selling method on this list.
On eBay, you have the option of auctioning items which can be a good method of selling for items that are in demand.
As a general rule, if similar instruments sell for a good price on auctions, you can try that option. If your horn isn't in particularly high demand, set a Buy It Now price to make sure you get exactly what you think its worth – but be prepared to wait for a while until the trumpet sells.
Bonus tip: If you're selling online, offer free shipping, even if you add the shipping cost in your Buy It Now price. People really like free shipping.
Facebook groups/marketplace
Facebook selling groups/marketplaces have become a very popular way to sell goods in recent years. A pro with this is that many groups are local so you have the item picked up/dropped off. There are also generally less selling restrictions compared to eBay.
For buying or selling trumpets, try Trumpets For Sale/Trade – with over 20,000 members, you're sure to find the perfect trumpet for you, or the perfect seller!
However, buyers on Facebook groups/Facebook marketplace usually want cheaper prices than what they would find on eBay. This means that you would likely make less money compared to selling on eBay.
Scamming on Facebook groups/marketplace is another real possibility. Because of fewer restrictions on Facebook selling, scamming is even more prevalent on Facebook compared to eBay.
How do you price your instrument?
Properly pricing an instrument can be one of the hardest parts about selling the instrument. If your price is too high, no one will buy your item. If you price too low, you will get a quick sale but you will not make as much money as you could have.
A good idea is to search your item up on eBay and see the general range which others are selling for. You can also look through expired listings to see how much they have sold for in the past. Then price your item roughly in the range of what the item has currently and previously been sold for.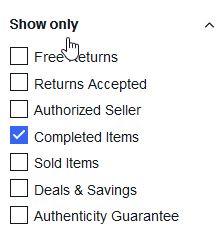 To get an idea what trumpets so far have sold for, go to the sidebar on eBay and pick Show only > Completed Items. Now you'll see all ended sales and auctions, with green numbers indicating a sale, and black numbers indicating an auction or sale ended without a buyer. Sort them by highest and lowest price to see the range it goes for.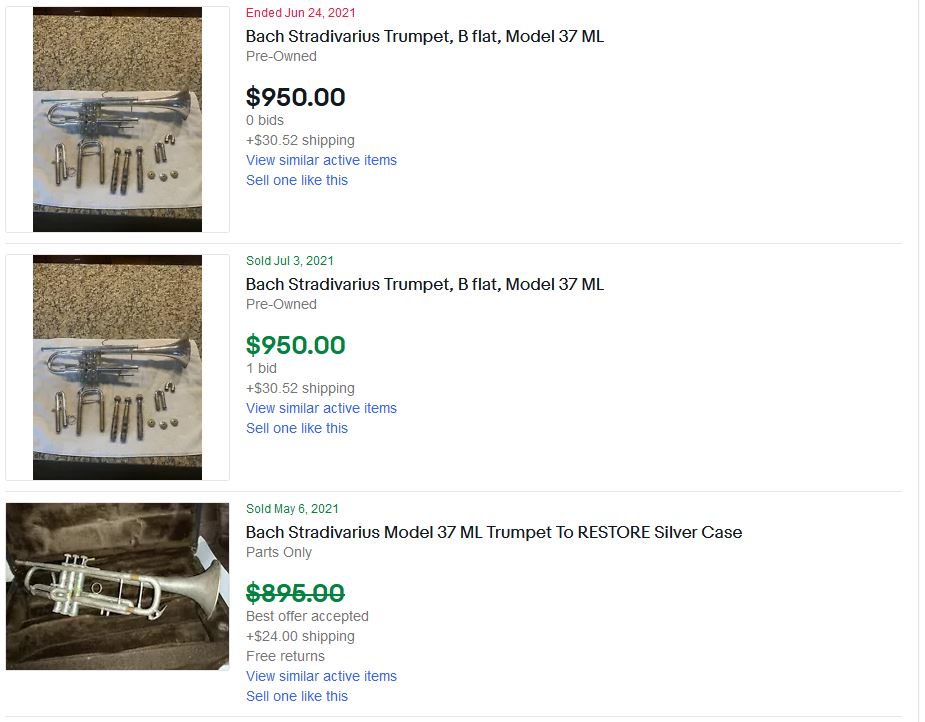 If you want a faster sale, price it lower than what others are doing. If you are selling on eBay, another idea is to do an auction. Set a reasonable reserve and let the market decide what the products sell for. This can be risky, but sometimes people will outbid each other up to a price that you didn't know the item was worth.
Related Articles:
---
TrumpetHub.com is a participant of the Amazon Services LLC Associates Program, an affiliate advertising program. Links marked with an asterisk (*) are affiliate links. If you buy a product through an affiliate link, we will get a small commission without extra cost to you. This helps us earn an income off the free content we provide to you. Thank you for your support!