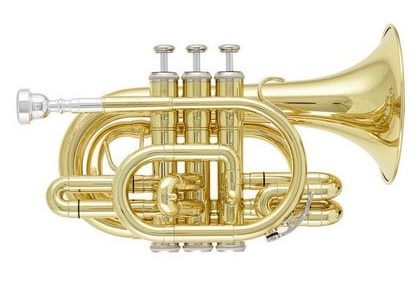 The quality of your musical instrument will determine how well your skill develops as well as how you are perceived as a player. A great instrument will facilitate great performances, and you will feel proud of your purchase.
Many people view mini trumpets as mere novelty instruments or toys, but some of the best pocket trumpets have a quality, ease and performance abilities similar to several of the top-of-the-line full-size instruments. This guide is meant to serve as a resource for all of the necessary information about quality mini trumpets.
Here you can find your best instrument by searching through pocket trumpet reviews to match characteristics to your desires as a player.
Summary
Good valves, full voice - for a price.
Big sound, good tonal quality.
Our Pick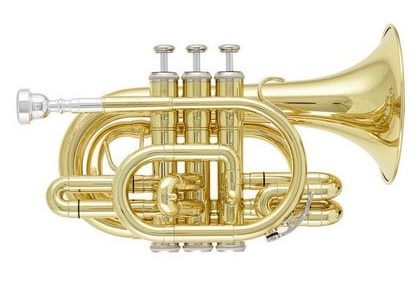 Summary
Good valves, full voice - for a price.
Summary
Big sound, good tonal quality.
Are Pocket Trumpets Any Good?
As with any kind of trumpet, there are good pocket trumpets and bad pocket trumpets. In general, you get what you pay for. Don't think of a pocket trumpet as a cheap beginner instrument. You can buy them cheaply as a fun novelty instrument, or spend more money to get a better, portable instrument to practice or play when you're on the go.
Are Pocket Trumpets Easier To Play?
Pocket trumpets can be easier to play for very small children, as their arms are short and full-size trumpets can be heavy. Pocket trumpets are smaller and lighter than 'proper' trumpets.
If the player's size is why you're thinking about a pocket trumpet, you might also consider getting a cornet instead.
For a decent cornet that won't break the bank, look at what Carol Brass* or Yamaha* have to offer (check on Thomann.de* if you're in the UK or EU).
Our Pick of the Top 10 Best Pocket Trumpets
Jupiter Pocket Trumpets
If your main concern is portability rather than price, you may want to look at a Jupiter pocket trumpet, like the Jupiter JTR710*. It's certainly not on the cheap side but it has good valves and a full voice. As the leadpipe is tightly curved, intonation can get a bit difficult if you play above the stave, but there is a certain kind of satisfaction in taking that precious little horn out of your bag and wowing your audience.
Stagg WS-TR245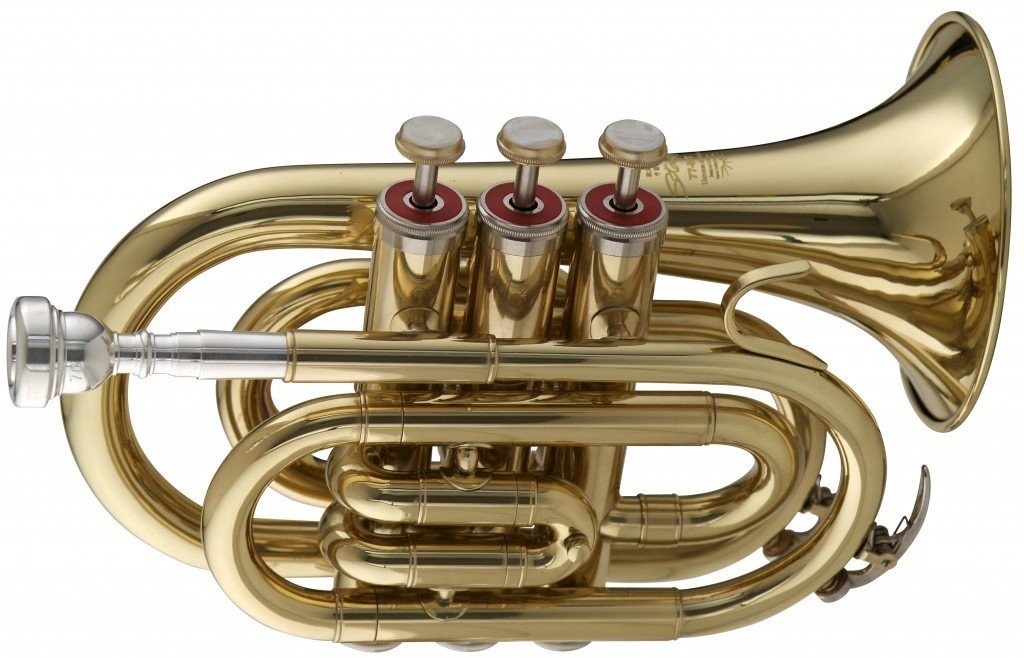 The Stagg WS-TR245* is a durable trumpet made with heavy-duty brass with a beautiful clear finish. Its stainless steel valves operate crisply, and its four slides function smoothly. As soon as the trumpet is unpacked, it is apparent that its valves are top quality and easy to maneuver.
In addition to the operation, the trumpet creates big sound with amazing tonal quality. Some users even compare its sound to more advanced professional trumpets. Many people purchase the WS-TR245 as a fun model for practice and come to realize the instrument can do so much more.
Roy Benson RBPT101G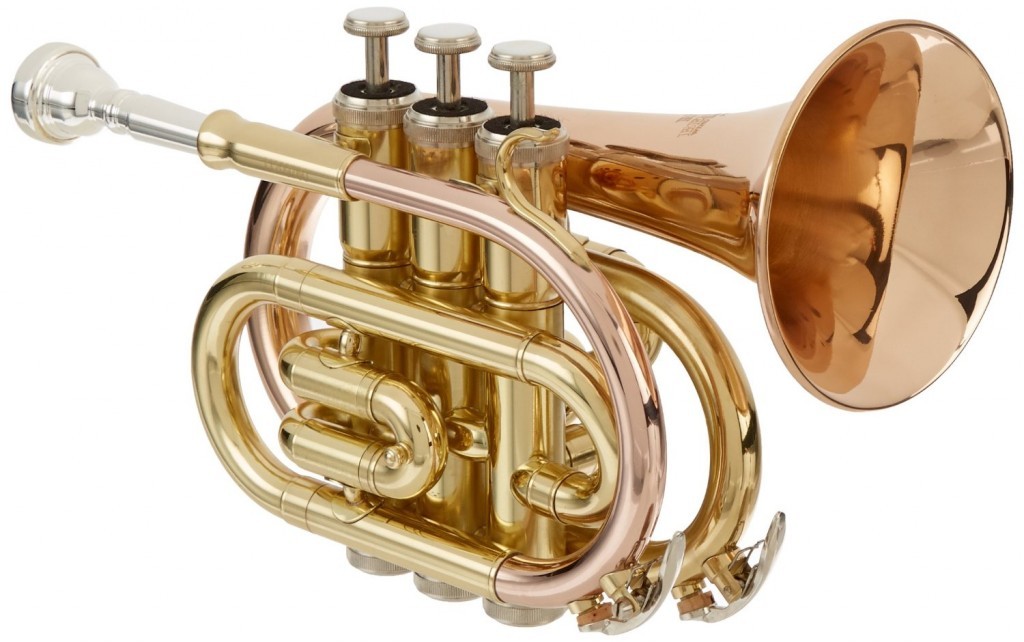 The Roy Benson RBPT101G* is a compact trumpet with a gold brass bell and lead pipe that provides a dark and rounded tone. It features nylon valve guides with a thumb ring on the third valve. The Roy Benson RBPT101G comes with two water keys along with a rectangular case that can be worn in a backpack style.
The instrument and the player benefit from the great action caused by the stainless steel pistons and top spring. The model is made with a quality nearly as great as expensive and complex models.
Carol Brass CPT-3000-GLS-Bb-SLB
Next up we have the Carol Brass pocket trumpet*, another instrument that will give you decent quality for a decent price. It has a pleasant, bright tone and the sound is very powerful for such a small pocket instrument. It comes with a Carol Brass 3C mouthpiece, so depending on your preference, you may want to get a smaller one. Also, consider applying some valve grease* before use in case you're getting it new.
Mendini MPT-N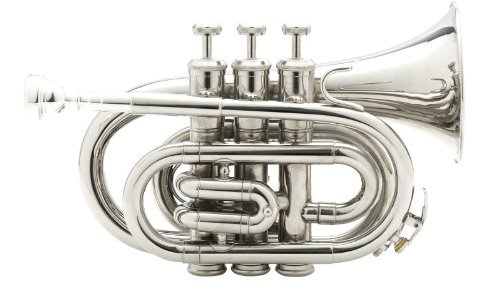 The Mendini MPT-N* is a nickel-plated pocket trumpet with a 7C mouthpiece. It has a 0.460-inch bore with a 3.75-inch bell in addition to comfortable white faux mother of pearl inlaid buttons. Its lead mouth pipe is fitted with phosphorous copper, and this is usually used on more advanced trumpet models.
The smooth valve action contributes to the quality of the instrument, and it slides freely without sticking. The instrument is durable and well-constructed, it plays easily and sounds impressive. The unit comes with a plush-lined nylon case with back straps, a bottle of valve oil, a pair of white gloves, a soft cleaning cloth and a Cecilio 92-D chromatic tuner.
Click here to read our full review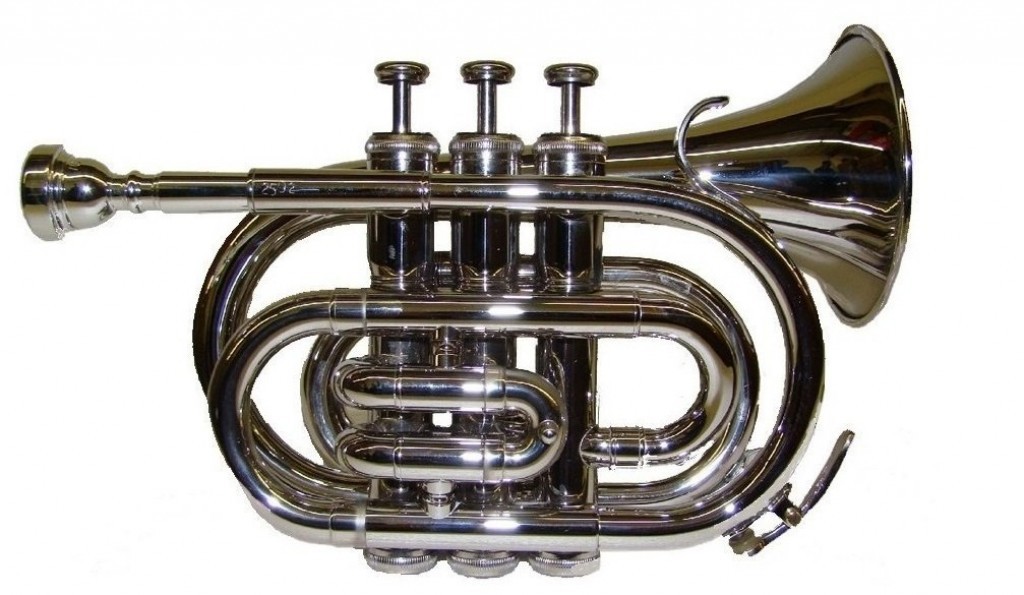 Merano WD-480
The WD-480 model from Merano* is a B flat nickel plated pocket trumpet with a nickel plated mouthpiece. It has a 0.460-inch bore and 3.75-inch bell. This pocket trumpet model is slightly unique in the fact that it is known to be a high-quality pocket instrument, but it is also very affordable.
The Merano WD-480 comes with a zippered velvet-lined carrying case for ultimate protection from the inside and outside. Also included are valve oil, a pair of gloves and a soft cleaning cloth.
Prelude PT-711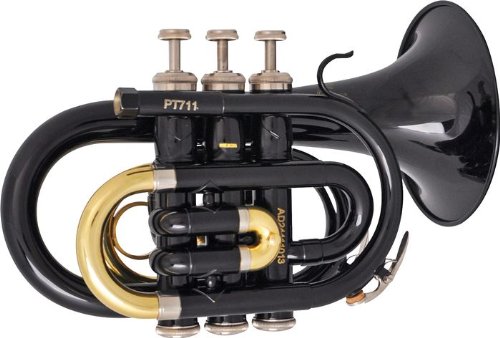 The Prelude PT-711 Series pocket trumpet* makes a great instrument for the player wanting great sound in a small package. The trumpet in B flat has a 0.459-inch bore and a bell of 3.66 inches. Its standard lead pipe is made of yellow brass as is its bell. It has 3 stainless steel valves with fixed ring third valve slide adjustment.
The small size of the trumpet makes it suitable for easy transportation for those that play while traveling, and it also makes it an eye-catcher as a performance instrument. The PT-711 features two water keys, a lightweight carrying case and a 7C mouthpiece.
CAROL CPT-3000-GLS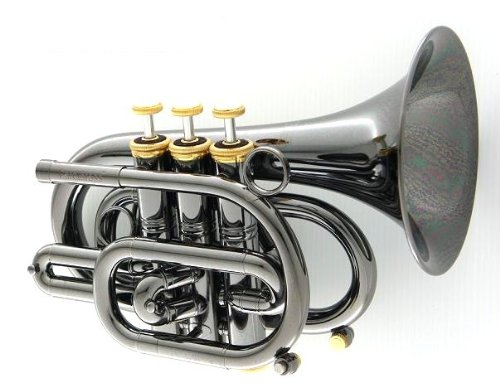 The CPT-3000-GLS* model from Carol Brass features stainless steel valves, 2 water keys, weighted bottom caps, a 0.460-inch bore and a 4.724-inch gold brass bell. It also features first and third thumb hooks to allow simple tuning with either hand.
Aside from its specifications, the CPT-3000-GLS produces a beautiful sound that rivals even professional level instruments. It offers its incredible sound, power and projection with an affordable price, and it has a black nickel finish with 24K gold trim.
It works well as a trumpet to keep skill up to shape when away from one's everyday instrument. Included with this unit are a polish cloth, hard case, 3C mouthpiece, slide lube and valve oil.
Check Price on Thomann (for UK/Europe)*
Allora MXPT-5801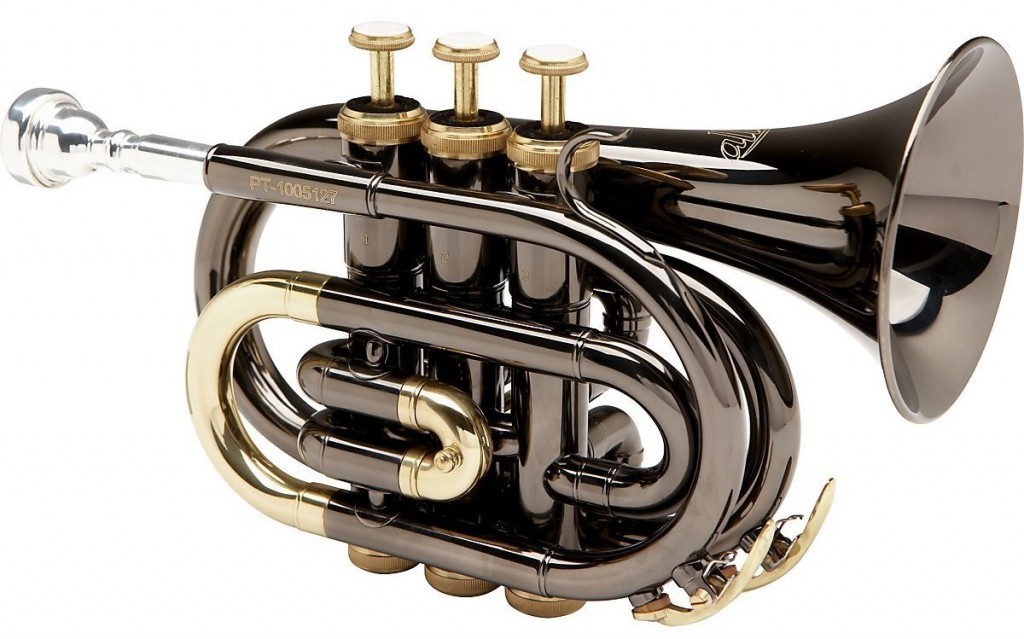 The Allora MXPT-5801* is a well-constructed trumpet that is also packaged well for protection even before its first use. It is popular among users due to its ease of play, and it functions smoothly right out of the box. It can produce tones nearly as well as standard trumpets that cost much more.
Even despite its size, the pocket trumpet can create impressively big sound. It comes in a durable high-quality case that is worth bragging about all on its own. On its exterior, the MXPT-5801 has a black nickel plate finish for esthetic pizzazz in addition to a convenient compact size for traveling.
Sky Band Approved

The Sky Band Approved pocket trumpet* makes a great instrument for new and experienced players. It is a good-looking instrument with a one-time drawn body that eliminates seams in its construction. The trumpet is well-engineered with perfectly shaped tubing and precise fits that facilitate a flawless air flow.
Considering its size and affordable price, the trumpet exceeds most users' expectations in terms of quality and sound. It makes a great substitute for one's day-to-day trumpet when traveling around, and it comes with a hard case, polishing cloth, valve oil and gloves.
Merano B003S1BBFQ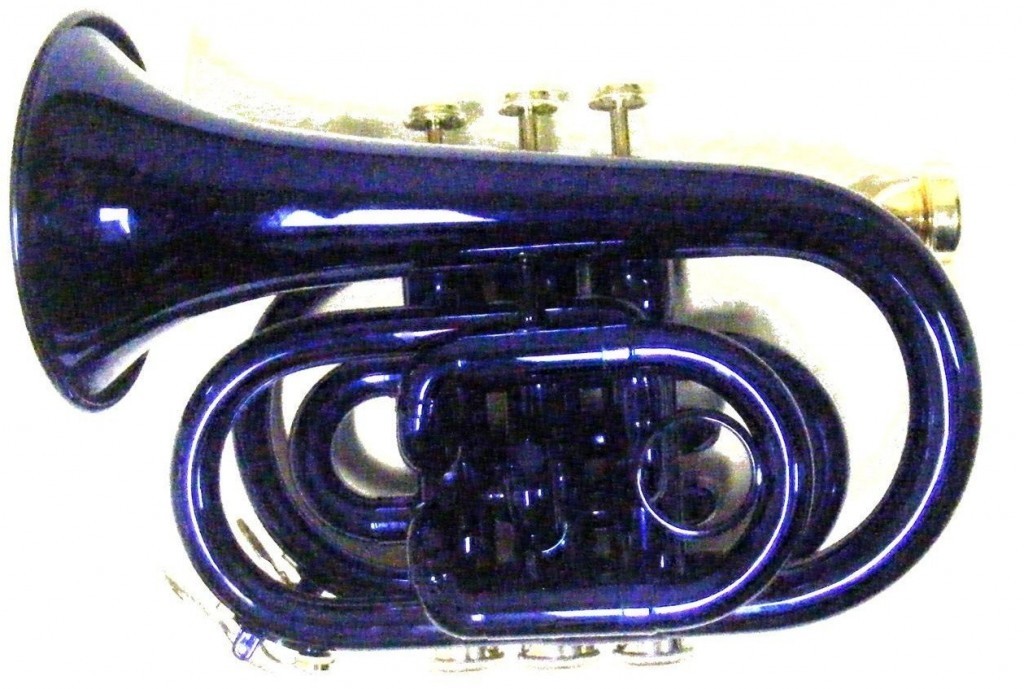 Many pocket trumpet manufacturers offer instruments in a variety of colors and finishes, but the Merano B003S1BBFQ pocket trumpet* is unique in that it comes standard in a deep blue indigo shade. This is one of its most impressive points as it quickly catches the eye of anyone listening and adds to the excitement in playing.
Despite its color and size, it should not be taken as a novelty or toy instrument. The B003S1BBFQ produces high quality sound like any trumpet should. The unit comes with a nickel plated mouthpiece and zippered velvet-lined carrying case.
Rossetti ROS1146 Pocket Trumpet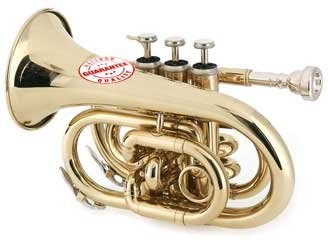 The Rosetti pocket trumpet* is a beautiful instrument that features a lacquered gold finish for an impressive esthetic appeal. The B flat trumpet has durable top action valves and springs along with adjustable slides for fluid play and sound production.
The unit comes with a plush lined hard case to keep the instrument safe from drops and bumps, and the interior keeps it in perfect condition without worry for subtle damage on the inside.
The gold Rossetti ROS1146 trumpet model is available for a very low price compared to standard instruments and even other pocket trumpet models. This makes it a great option for new or student players.
Best Pocket Trumpet Brands
Jupiter Pocket Trumpets
Jupiter pocket trumpets are well made with dependable warranties. The quality of Jupiter trumpets is far from many of the novelty pocket trumpets that are made of bad materials that lead to poor functioning. The black B flat 516BL model is a successful pocket trumpet from Jupiter.
One of the most exciting aspects of this model is its appearance, and the inside of the bell retains a standard trumpet color in contrast to the bold black exterior. This feature is usually only found on the most high end trumpets, and it allows this model to quickly grab attention. The 516BL also produces an impressively big sound in its small frame.
Carol Brass
Carol Brass trumpets are highly acclaimed by professional musicians and instructors around the world. Many of the most well known trumpet players play or endorse Carol Brass instruments. The Carol Brass CPT-300LR model is a common model from the brand.
This trumpet has a large 4.7-inch bell that helps produce more favorable sound. It is appreciated for being flexible and open when playing. The CPT-3000-GLS is another popular pocket trumpet from Carol Brass. It is one of the brand's premier models, and it is known for being able to play as well as a full size model.
It is also impressive for being able to produce amazing sound throughout its range.
Mendini
Mendini pocket trumpets by Cecilio make a great choice for beginner and student players. Each trumpet is tested at the company's factory before being tested once again at the distribution center in Los Angeles. This ensures that the brand's high standards for quality are met with each instrument they produce.
Many instructors approve of this pocket trumpet line for use with their students. One of the most popular Mendini by Cecilio trumpets is the MPT-N model. This nickel-plated trumpet comes with a 7C mouthpiece, a phosphorous copper mouth pipe, faux mother of pearl inlaid buttons and numerous accessories.
Allora Pocket Trumpets
Allora offers high-quality and affordable trumpets, and the MXPT-5801 model is one of the most appreciated instruments from Allora. The pocket trumpet is available in various finishes including black, silver and standard in order to provide a variety of appearances for players that like a beautiful eye-catching instrument.
This model is a well-built instrument that is packaged well from first use. It is easy to play and produces tones nearly as beautiful as those from full-sized advanced instruments. In addition to the sheer quality of the sound, the trumpet's sounds are big and bold as well.
Cecilio Pocket Trumpet
Cecilio is a well-known creator of pocket trumpets, and they offer warranties against manufacturer's defects. The standard PT-280 model from Cecilio has a beautiful gold finish with great tonal quality and response.
It has smooth valves for easy playing, and it comes with a number of accessories including a cleaning cloth, a pair of gloves and a plush-lined nylon hard shell case. The Cecilio 77-MT B flat pocket trumpet is another common model.
Kanstul Pocket Trumpet
Kanstul is a brand that has contributed greatly over the years toward the overall development and advancement of the instrument. The manufacturer strives to stay ahead of demands and trends by providing mechanically advanced instruments of all kinds.
The CCT-905 model is the most popular pocket trumpet from Kanstul. It is a hand-hammered one piece trumpet with a 4.5-inch yellow brass bell made to provide excellent response with its compact design. It features top sprung hand-lapped pistons and a 0.460-inch bore.
The CCT-905 produces a rich sound with excellent tone akin to that of a professional full size trumpet. Its big sound and small size make it great to use when traveling.
Merano Pocket Trumpet
Merano is a newer instrument brand that creates string, wind and brass instruments. The Merano WD-480 model is a popular type from this brand, and it is a high-quality pocket trumpet that is still affordable. it has a 3.75-inch bell and 0.460-inch bore. This pocket trumpet is nickel plated with a nickel plated mouthpiece.
It comes with several accessories including oil, gloves, a cleaning cloth and carrying case. The standard PT100 model comes in six different finishes to provide greater appeal to those who like to impress with sight and sound. The lightweight and affordable model is surprisingly durable and comfortable to use.
What is a Pocket Trumpet?
A pocket trumpet is a compact version of a standard B flat trumpet. It has the same playing range of the full size instrument, but it is built with tightly wound tubing that makes it smaller in size while still retaining the normal range.
Many people enjoy them as entertaining pieces, but they can be used as practice instruments or performance trumpets as backups to standard trumpets.
When used for performances, they are often used to add flair in more casual settings. Pocket trumpets come in a variety of colors and finishes, and some are significantly more well-made than others.
Advantages of a Pocket Trumpet
Why should you get a pocket trumpet? One of the main benefits of a pocket trumpet is its size, and these instruments come in handy in circumstances where a standard trumpet is not portable enough. Even many of the most skilled trumpet players carry these instruments around to get in extra practice when needed. If you're staring a child on a trumpet, a pocket trumpet can also be a good starter instrument that is easier to use for little hands.
Because of their appearance, pocket trumpets also add style and fun to many casual performances such as parades and festivals. Pocket trumpets make an affordable alternative to those looking to buy for children that may not be responsible or dedicated enough for a full size model.
Disadvantages of a Pocket Trumpet
One of the biggest disadvantages with pocket trumpets is that many less expensive models are of low quality. These types often have a less sturdy build, limited range or poor intonation. Another problem is that many pocket trumpets are produced to be used more as toys than true instruments.
Mini trumpets have the disadvantage of not being appropriate for use in orchestras or recording like the standard instrument. Those that start with pocket trumpets can't always grow out of them and upgrade to more professional quality instruments. Some models are more advanced than others and may act as suitable replacements.
Factors & Features to Consider When Buying a Pocket Trumpet
Sound
For any musical instrument, the sound is the most important aspect to consider when choosing a particular model. The total concept of sound quality relates to the instrument's tone, projection, timbre and other factors.
A good pocket trumpet should be able to play extreme registers freely, project easily and produce no relative changes in tune for specific notes. The instrument's timbre is a matter of personal preference affected by how the player plans to use the instrument.
Mechanical Function
A good sounding instrument is of little use if it can't be played properly due to poorly functioning components. A good trumpet should have smoothly moving valves and slides that close completely.
When removed, the slides should be easy to replace. The best trumpet should have a first and third valve ring in order to make tuning adjustments along with a stopper that prevents the third valve slide from falling.
Build Quality
Like any object you buy for frequent use, the build of the trumpet is important to get the most out of your investment. It needs to stand up over time, so it should be built durably. The build quality of the trumpet will also determine how well it functions mechanically and how the various parts of the instrument work together when played.
Bore and Bell Size
The bore and bell sizes are important indicators of how well the instrument will produce sound. Pocket trumpets with bore and bell sizes that are on the higher end of the spectrum are more likely to produce better intonation and successively project throughout their range. They are also able to accommodate mutes from standard sized trumpets.
Skill Level/Trumpet Grade
Like their full size counterparts, pocket trumpets come in a range of grades based on features and appropriate skill level for the player. Some trumpets are meant to be novelty instruments used for fun, and these vary greatly in terms of quality. Professional level pocket trumpets are high-quality tools that can be used in significant performance settings.
Personal Dedication
The drive the player has for taking on the practice trumpet should be considered before making an investment into a high-end model. Those that only expect occasional use in casual settings will need less out of their trumpet compared to the features needed by someone that plans to use the trumpet regularly.
Size and Weight
One of the main benefits of a pocket trumpet is its size, so you want a model that isn't too much of a burden to carry around. A portable trumpet will be just the right size for carrying along in a case with other luggage, but it should also fit comfortably in the hands. Your trumpet should be light enough to carry, but dense enough to be sturdy.
Price
Some people consider price to be one of the most significant variables when it comes to buying a pocket trumpet. For those that see it as a part-time instrument or more of a novelty, spending $500 or so seems quite illogical. Those that want a quality instrument for a child or student that needs to develop should be willing to spend in the low hundreds at the least.
Used Pocket Trumpets
Many people look to save money on their pocket trumpet, so they opt to purchase their model used. This is especially helpful for those that are just starting and may not be sure of how long they plan to keep the habit.
It can also be detrimental because used instruments come with wear and tear that may affect the trumpeter's ability to play adequately. Any pocket trumpet purchased used should be inspected by the player as well as a professional or instructor if possible.
Check the valves for secure soldering and cleanliness, and check the water keys to make sure they work. Check for bangs and dents as well as mineral buildup in any components. Such factors may not prevent you from being able to buy or play the trumpet, but they will require extra care before use.
Where to Buy the Best Pocket Trumpet
Your local musical instrument and supplies stores may have pocket trumpets for sale, but this is not guaranteed. These instruments are unique and fairly rare compared to most standard instruments that are likely to be in stock. If you can find the model you want nearby, you have the benefit of playing the trumpet as soon as you find it.
Many people would rather purchase a cheap pocket trumpet directly from the manufacturer or through Amazon. You are most likely the find your preferred model this way, and you can often find a pocket trumpet for sale at reduced prices compared to those sold in-store.
Making the Decision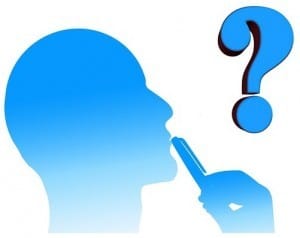 Pocket trumpets can be exciting to own but confusing to purchase for first-time owners. There are numerous factors to consider in order to make a valuable selection. You are now equipped with more information about mini trumpets and how to know what to look for when shopping.
Only you can make the best decision regarding what you or your student may need based on the player's unique characteristics. Buy your own mini trumpet and get the unique experience of owning one of the most eye-catching and conveniently portable musical instruments available.
---
TrumpetHub.com is a participant of the Amazon Services LLC Associates Program, an affiliate advertising program. Links marked with an asterisk (*) are affiliate links. If you buy a product through an affiliate link, we will get a small commission without extra cost to you. This helps us earn an income off the free content we provide to you. Thank you for your support!