Is your trumpet holding you back? Are you looking for a new horn for intermediate and advanced players that will let you advance in your craft? Well, the Bach 190S37 might just be for you! It's a trumpet for serious musicians with deep pockets. Check out our review to learn more about this quality horn.
Bach 190S 37 trumpet*
The Bach 19037 is a great all-rounder for anyone looking for an instrument that will last.
Bach 190S37 – Overview
This Bach Stradivarius trumpet is the 190 model, with the "S" in the name signifying that it's silver-plated and 37 signifying the shape of the bell. (See our guide on the difference between the Bach 37 and the Bach 43.) It's also available in lacquer as the Bach Stradivarius 19037. The lacquer version is usually slightly cheaper.
The 190S37 is the 50th anniversary edition Bach trumpet. Released originally in 2015, it commemorates 50 years of manufacturing the trumpets in the Bach factory in Elkhart, Indiana. Production moved to Elkhart in 1965 and the trumpets are still made there today.
Bach Anniversary Design
As one fancy features of the anniversary trumpet you will notice the gorgeous engraving on the bell. It's based off the original drawings by Vincent Bach on the original Bach 37 and really stands out.
Another feature of the 50th anniversary model is the wooden case it comes in – a rectangular case with a commemorative medal on the outside and the Bach name and red fabric on the inside (instead of the usual blue fabric of other Bach Stradivarius cases). Collectors will love it – but let's look at the most important feature, the sound.
Bach 190S37 Features
2-Piece Valve Casings
They have nickel balusters and provide a resonant sound. The second valve casing has a commemorative engraving.
Side Seam
The side seam aligns the seam with the bell braces, which improves the bell vibration and with it the trumpet's tone.
Retro Finger-Hook
For that vintage feel.
Steel bell-wire
It allows for a quicker response and better projection.
Does the Bach Stradivarius 190 sound good?
The Bach Strad 190S37 with its .459″ medium-large bore has a lovely vintage tone. It's a heavy instrument and you'll need proper force to play it, but the sound is full and quite soft in lower registers.
It's a very well-rounded horn and you'll also find it very responsive. The intonation also leaves nothing to be desired.
Who is the Bach Stradivarius 190 best suited for?
Everyone – In terms of its range, the Bach Stradivarius 19037 or 190S37 is best suited for everyone. It's a very versatile instrument that can handle jazz as well as orchestral music, band, or anything else.
Advanced Players – Having said that, if you are a total beginner or you're buying the horn for a brand new player and you're not sure if you (or they) will stick with the instrument, you might not want to shell out so much for a horn. Maybe a student trumpet or intermediate trumpet is better suited.
Still, if you have the means to buy the 19037, you will probably have a horn that will last you for a very long time if you maintain it well, and it's likely you won't ever outgrow it throughout your career as a trumpeter.
What is the difference between the Bach Strad 180 and the Bach Strad 190?
There are a few differences between the Stradivarius 180 and the 190 model:
| | |
| --- | --- |
| Bach 190 | Bach 180 |
| 2-piece valve casings | 1-piece brass valve casings |
| bell seam down the side of the bell | bell seam along the bottom of the bell |
| Wider bracing | |
| 50th anniversary engraving | |
Bach 190 vs. Bach 180
Decision Time
Should you get the Bach 190S37? If you're ready to take your playing to the next level, the Bach 190 gets a resounding YES from us. You'll find it an extremely versatile, responsive, well-rounded horn that will cover most needs for a very long time.
You might also want to look into a decent trumpet stand to make sure you don't damage your instrument by inadvertently dropping it.
How to spot a fake Bach 190S37
If you want to get a Bach 190, make sure you're not sold a fake instrument passed off as a real one. The Bach 190S37 has the big pattern engraved, it's made in the USA, and the second valve casing has a commemorative engraving looking like this: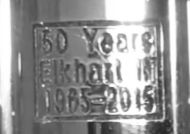 If your horn is missing those features, or if it's missing its serial number, and if you find it at a very cheap price of a few hundred bucks, be wary. You might also want to check out this Reddit thread if you think your Bach Stradivarius might be a forgery.
Bach 190S 37 trumpet*
The Bach 19037 is a great all-rounder for anyone looking for an instrument that will last.
Related Articles
---
TrumpetHub.com is a participant of the Amazon Services LLC Associates Program, an affiliate advertising program. Links marked with an asterisk (*) are affiliate links. If you buy a product through an affiliate link, we will get a small commission without extra cost to you. This helps us earn an income off the free content we provide to you. Thank you for your support!