Let's dive into the world of trivia with these fascinating trumpet facts that might surprise you!
What jazz musician was known for playing a bent trumpet?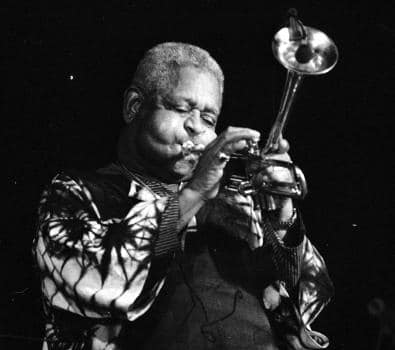 American trumpeter Dizzy Gillespie, one of the fathers of modern jazz and bebop, was not only known for his puffy cheeks, but also for playing a bent trumpet.
An article on Smithsonian Magazine describes that the reason Gillespie had the bent trumpet was that someone fell on his horn (a Martin Committee*) while he had it on his trumpet stand. This bent the bell out of shape.
As he related in an interview, Dizzy Gillespie tried the bent trumpet and found he liked the sound. He had the trumpet fixed, but kept thinking about the sound – so he had one cumstom made after the fact!
I put the horn to my mouth and started playing it. … I couldn't get the right sound, but it was a strange sound that I got from that instrument that night. … I played it like that the rest of the night, and the next day I had it straightened out again. Then I started thinking about it and said, "Wait a minute, man, that was something else."

From Autobiography of Dizzy Gillespie with Al Fraser via PBS
So he contacted the Martin Company and had them custom-build him a horn with a bell at a 45 degree angle. And hence a legend was born!
From then on, the bent trumpet became his trademark style and he had others like it custom made. He also had a special trumpet case that could fit the unusual shape of the his bent trumpets – much wider now than a normal horn.
In another nice anecdote, the Smithsonian Magazine further points out that when they approached Dizzy to donate an instrument to the museum, he sent one over, no questions asked. So one of his trumpets is still part of the National Museum of African American History and Culture.
Which U.S. state quarter features a trumpet?
The answer is: the Tennessee state quarter. It also features a guitar and a fiddle, along with a banner proclaiming "Musical Heritage". (You can see and buy some here*.) It also has the three stars for East, West, and Middle Tennessee. The trumpet represents the jazz and blues the state is known for.
What Trumpet Does Tine Thing Helseth Play?
Norwegian trumpet soloist Tine Thing Helseth plays a Yamaha 9445CHS (according to Wikipedia). If you've never heard the name, watch her in her all-female brass ensemble here:
Related Articles:
---
TrumpetHub.com is a participant of the Amazon Services LLC Associates Program, an affiliate advertising program. Links marked with an asterisk (*) are affiliate links. If you buy a product through an affiliate link, we will get a small commission without extra cost to you. This helps us earn an income off the free content we provide to you. Thank you for your support!