No matter how much money you spent on your trumpet to begin with, you'll want to make sure you keep it in great condition. Part of this is buying a good trumpet case for it. In this guide, we'll show you what different cases and trumpet bags there are, where to get them and what to look out for.
Summary
Compromise between weight and durability.
Durable with straps for easy carrying.
Durable, stackable, but heavy.
Choosing the Perfect Trumpet Case
Depending on your budget and the way you intend to carry your trumpet, different styles of trumpet cases might be interesting to you. If you value portability, e.g. for carrying your trumpet while riding a bike, you might want to look at trumpet backpacks, i.e. trumpet bags with backpack straps. If you value safety above all, a hardshell trumpet case might be right for you. We'll look at your options in a moment. But first:
How much does a trumpet case cost?
Prices for decent trumpet cases start at $80 for the cheaper cases or gig bags and go up to roughly $1200 for the highest quality, most expensive ones. For $200, you can already get very sturdy, well-made cases that will last you a long time. Custom-made cases start at roughly $400.
If you're short on cash, let your loved ones know that trumpet cases make good gifts for trumpet players!
How much does a trumpet case weight?
Trumpet cases (when empty) start at roughly 2.2 pounds (1 kg) for a lightweight gig bag and go up to 7.2 kg (3.3 kg) for heavier hard shell cases. Your trumpet will add around 2 lbs to 3.7 lbs (900g to 1.7kg) to this weight.
Here's the weight of some trumpet case models to give you an idea:
Soft Cases and Gig Bags for Trumpets
Soft cases and gig bags are trumpet bags with foam padding that put the emphasis on portability. They are lightweight and often on the cheaper end of the spectrum. Thanks to shoulder straps or backpack straps, they'll make it easy to carry your trumpet if you have to walk with it or want to carry it on your bicycle.
You'll often find these made of nylon, and while they are padded and weather resistant, they don't offer nearly the same protection a hardshell case would.
So while they are great for walking to school with, if you or your kid's instrument often ends up loaded into a trailer with other instruments to be taken to venues, you might want to spring for a more durable and protective hardshell case.
Hard Shell cases for Trumpets
Hard shell cases, while also often made from lightweight materials, will be a bit more bulky and less portable than a gig bag or soft shell case. What you lose in portability, you gain in protection.
A proper hard shell case can take some abuse, so if you do often load your gear into a bus or trailer with many other instruments, your trumpet is a lot less likely to get damaged on the way.
With hard shell cases, you can choose between many different models made from different materials. Harder and safer material will often mean the case gets heavier, so this is again a case of balancing your needs.
Even though hard shell cases will often have a handle for carrying, many come with shoulder straps, too, so you can carry them and still have your hands free.
Some hard shell cases are also made to be more form fitting to your instrument. This is largely a question of taste or what you feel is easier to carry, as both will protect your instrument very well.
Wooden Trumpet Cases
Trumpet cases made of wood are essentially hard shell trumpet cases, except the hard shell is made from wood. They are a lot less common, possibly because other materials – aluminum or plastic – are more durable.
Wooden trumpet cases certainly get extra points for their style factor, though, and you can find them in music shops all over the place. Getzen makes wooden trumpet boxes, but they do not have an online shop. Their site lists Getzen dealers, though, so find out more about those if you really want to get a wooden case.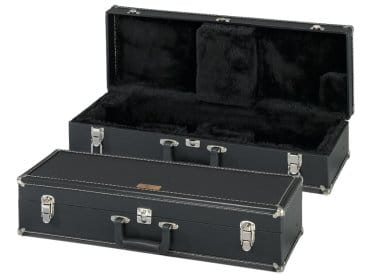 Hybrid Trumpet Cases
Lastly, there are also hybrids between a hard-shell case and a soft-shell case, most notably the Torpedo Trumpet Case, see below. Where a hard-shell case will often have a durable fiberglass shell, these hybrid trumpet cases are made from thick, durable leather (like a leather soft bag), a thick foam layer and an added plastic layer.
As you can imagine, they're a perfect middle between less protective soft cases or gig bags and the heavier, more protective hard shell cases.
I've never heard any complaints about Torpedo trumpet bags, so lets start with our in-depth look at one of those.
Torpedo Trumpet Case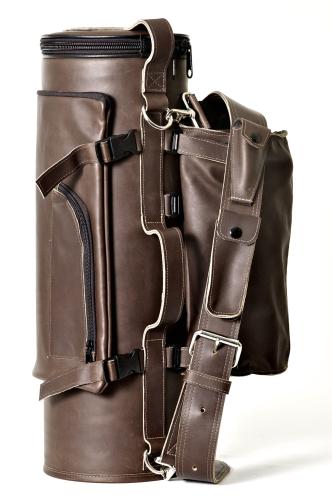 The torpedo trumpet case is the Rolls-Royce among trumpet cases. The one displayed above is the Torpedo Trumpet Outlaw Toredo, made from extra thick Loredo leather. It comes with a 2″ shoulder strap you can add additional pockets to.
Your trumpet is protected in the Torpedo trumpet case with foam on all sides and a plastic layer, so as they describe themselves, it's between a gig bag and a hard shell.
You can visit the Torpedo Bag website to see their other bags, ranging between $200 and $1300, with most options around the $500 mark.
They also make trumpet cases for multiple trumpets at once, like the double trumpet bag or the super triple trupet case.

Check price on Thomann.de (for EU)*
Reunion Blues Trumpet Case
The Reunion Blues trumpet case is another solid choice. If you can't or don't want to afford a Proton bag, the Reunion Blues has you covered. It lacks conveniences like backpack straps or wheels for wheeling it along the sidewalk, but if you're carrying a single trumpet with little extra equipment, you'll be fine with this one.
They make it in nylon and leather, although the leather one seems a bit harder to find. You might find it on Amazon.com*, but if not, try a brick and mortar store.

Check Price on Thomann.de* (for Europe)
Protec Trumpet Case
Protec trumpet cases are on the cheaper end of the spectrum but offer anything you need in a simple trumpet bag. They have a nylon exterior and keep your instrument safe from the elements.
They also come with shoulder straps for easier carrying. If you're after backpack straps for even more comfortable carrying, you'll have to buy the backpack straps separately here*.

Check Price on Thomann.de* (for Europe)
Yamaha Trumpet Case
Yamaha make great trumpets, now they also make a trumpet case. It's a wood shell construction with a vinyl covering. This is a double trumpet case with backpack straps. Thanks to the backpack straps, you'll be able to easily transport up to two trumpets with this case.
Wolfpak Trumpet Case
According to WolfPak, their WolfPak Trumpet Cases are built with a shatterproof shell to eliminate weak points associated with normal closure hardware, plus over 1-1/2 in. of fabric-covered foam to absorb any blows to the case from normal day-to-day use and abuse.

Check Price on WolfpakCases.com

Gladstone Trumpet Case
Gladstone cases look more like suit cases or in the above case, like you'd expect for a travelling musician. If you're on tour and shipping your instrument overseas, a Gladstone case might be right for you. They start at roughly $200, but you can always check for used ones in trumpet forums or on eBay.
Custom Trumpet Cases
If you're interested in a custom trumpet case, you might want to check out the people of RawBrass.com. Their cases are hand-crafted with a high-tech resin shell and you can use a case for up to four trumpets or convert it to a case for two trumpets with different pads.
Save Money!
If you don't have a lot of money and still don't want to compromise on quality, go over to eBay and check for used trumpet cases.
---
TrumpetHub.com is a participant of the Amazon Services LLC Associates Program, an affiliate advertising program. Links marked with an asterisk (*) are affiliate links. If you buy a product through an affiliate link, we will get a small commission without extra cost to you. This helps us earn an income off the free content we provide to you. Thank you for your support!
Featured image by Michael Kauer from Pixabay.