Read our review of the Mendini TT-280 by Cecilio
As every other Mendini by Cecilio trumpet, the Cecilio TT-280N is a musical instructor approved trumpet that is created and specifically designed for students and beginners in the trumpet world. As you may know by now, Cecilio Musical Instruments are offering one of the finest handcrafted band and orchestra instruments that are tested with rigorous quality standards and designed always with the beginner student trumpet player in mind.
The attributes of the Cecilio 2Series TT-280N student trumpet include a phosphorus copper lead mouth pipe, with added 3 comfortable white mother of pearl key inlaid plus 3 smooth action valves. Each one of the trumpet's attributes is tested and the trumpet is also play tested like every other instrument at Cecilio's factory and again re-tested at their Los Angeles distribution center before shipping to make sure that nothing less of top quality specifications and standards are met.
This fine trumpet package also includes a plush-lined nylon covered long lasting shell case with backpack straps (making it easy to carry to school or band practice), a pair of white gloves, a soft cleaning cloth, along with a bottle of valve oil, to make sure those valves are in the same mint condition as the day you purchased it.
Cecilio TT-280N Trumpet Features & Specifications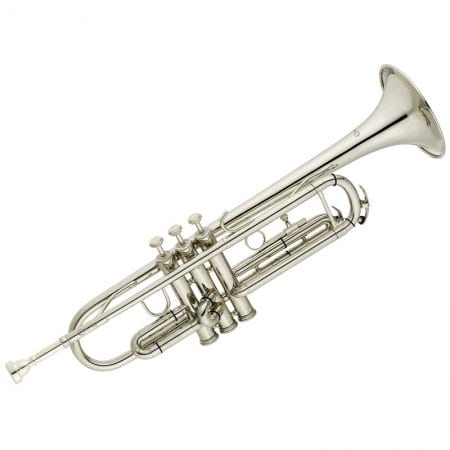 Features
Nickel plated Bb trumpet with 7C mouthpiece.
Phosphorus copper used on lead mouth pipe (found on expensive trumpets), smooth action valves, and comfortable white faux mother of pearl inlaid buttons.
Included: a hard case, a bottle of valve oil, a soft polishing cloth, and a pair of white gloves.
1 Year Warranty against Manufacturer's Defects.
Specifications
Key: Bb (B flat)
Nickel plated

.460" bore and 5" bell
Faux mother of pearl inlayed buttons
Smooth Action valves
1st valve thumb saddle
3rd valve slide with adjustable throw ring
What Customers are Saying
PROS:
I love it! It plays extremely well, and sounds very good for an intermediate horn.
I bought 5 of these for my students to learn on! They're especially good for educational purposes.
The case is pretty nice! Easy to carry around.
CONS:
It is not a professional horn.
If the third valves sticks, you'll need to take it out and oil it.
Decision Time
So you are just starting out in the trumpet world and want a good handcrafted horn to practice on? Or you look for an affordable and quality musical instrument for you kid, or grandkid that will serve him well in his band practice and learning lessons?
Then waste no more time on your decision, and order the Mendini by Cecilio TT-280N, we guarantee it is the perfect fit for the job!