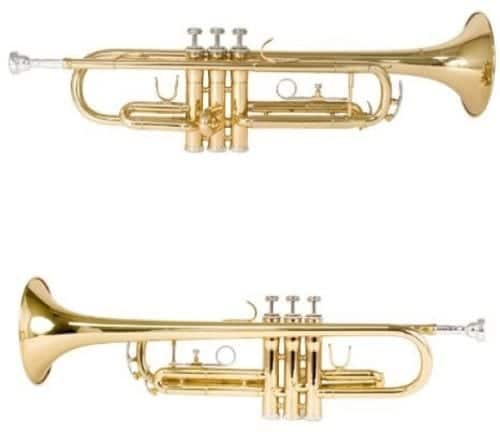 The Mendini MTT-L student trumpet created by Cecilio is marketed as a suitable trumpet for beginners. But is it any good? Spoilers: We think the money is better spent buying a used higher quality trumpet.
The Brand
Here's where I'd like to tell you more about the brand, Mendini by Cecilio, but they make it rather difficult. One might even go so far as to say they are not very transparent.
Brass instrument manufacturers often proudly show off their instruments and their long manufacturing tradition on a website, but Mendini by Cecilio's website (ceciliomusic.com) redirects to a KK Music Store that sells all sorts of cheap instruments. They also don't have the best reviews anywhere else but on their website and on Amazon (see mythreecents.com or complaintsboard.com).
According to corporationwiki.com, the company is run by Presidents Siufong Wu and Kenneth H. Khuong in California. The United States Trademark and Patent Office lists the last listed owner of the trademark as "DAYBREAK DEVELOPMENTS, INC.", which are a non-profit website with a website I personally find rather shady (daybreakdev.org).
So to sum this up in the nicest way possible: Little is known about the brand Mendini/Cecilio, and they don't seem to show off their instruments with pride either.
Mendini MTT-L Trumpet Features & Specifications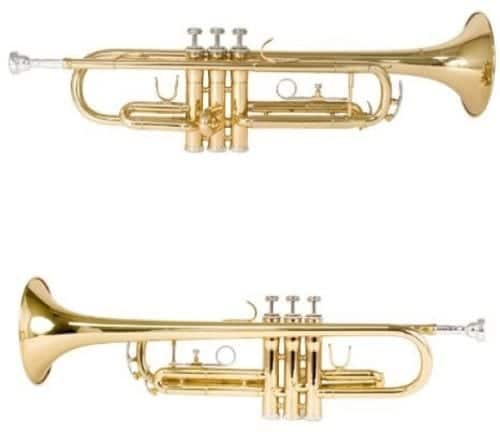 The Mendini MTT boasts the following features:
Bb trumpet
0.46″ bore
1st valve slide thumb saddle
3rd valve slide ring
Comes with tuner, case, stand, pocketbook, valve oil, polishing cloth, and a pair of white gloves
Pros & Cons
Pros
Affordable horn
Comes with a lot of equipment
Cons
Not very durable
Sound is stuffy
Valves are sticky
Hardly any resale value
PROS:
The pros speak for themselves:
The trumpet is very affordable and can easily be bought at Amazon*.
It also comes with a lot of equiment like a tuner, a case, and a polishing cloth. This makes for a great "all in one" beginner package if you're on a tight budget.
CONS:
I don't own the Mendini MTT-L myself, so I'm relying of what I've read and heard over time, but a lot of it is not great:
The sound is stuffy, rather than bright and clear, and it's overall difficult to play. Especially for beginners, this might be off-putting rather than awaken a love for the trumpet.
One common complaint are the sticky valves, which are also said to be hard to put back in after oiling. Considering you're meant to oil your valves a lot, this can be an issue. (Source)
While the price point of the Mendini MTT-L is low, it has hardly any resale value. If you or your child decide to give up on the trumpet again, don't expect to make your money back. You might be better served with a higher quality pre-owned trumpet you can resell for roughly what you bought it for.
Decision Time
While the price is great, the trumpet might become a source of frustration when used as more than a toy. If you're tempted because your budget is tiny, get a used Olds Ambassador on eBay for roughly the same price to get a decent trumpet for a beginner.
Alternatively, you can rent a trumpet for a monthly fee until you know if you want to stick with the trumpet (or until you have some more money saved up).
If you're just looking at the Mendini because you're frugal, but you actually have the means to spend a little bit more, get a good quality intermediary trumpet – there's no shame in buying used either, just make sure the horn is in good shape and clean it well.
---
TrumpetHub.com is a participant of the Amazon Services LLC Associates Program, an affiliate advertising program. Links marked with an asterisk (*) are affiliate links. If you buy a product through an affiliate link, we will get a small commission without extra cost to you. This helps us earn an income off the free content we provide to you. Thank you for your support!