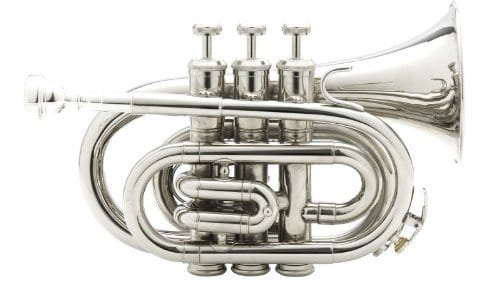 Read our review of the Mendini MPT-N Pocket student trumpet by Cecilio
The Mendini MPT-N Pocket trumpet, produced by Cecilio the producer of high quality and affordable musical instruments, is one of the most extravagant pocket trumpets that tops the most pocket trumpets on the market with its incredible sound that produces while being played.
The focus of the design at the Mendini MPT-N Pocket trumpet is in its lightness. Live every other pocket trumpet, it is a small horn but is able to produce powerful and rich sound. And that's exactly what the Mendini MPT-N does when you'll start playing.
As a well known brand that produces high quality affordable trumpets that are great for beginners and student trumpet players, the Mendini MPT-N Pocket trumpet by Cecilio is no exception to that practice.  It comes with features such as phosphorus copper lead mouth pipe, and 3 comfy white mother of pearl key inlaid with 3 smooth action valves.
Like every other Cecilio product, the Mendini MPT-N Pocket trumpets are playing tested at the factory and re-tested at their Los Angeles distribution center to be certain that nothing less than the best quality product is handed to the musician. That is one of the many reasons why the Mendini trumpets are approved and highly appreciated by many students, musicians and instructors.
The Mendini MPT-N Pocket trumpet comes also with a plush-lined nylon covered hard shell case with backpack straps that is excellent if the student trumpet player wants to bring his pocket trumpet to school or to practice with his band, a pair of white gloves, a soft cleaning cloth, and a bottle of valve oil.
It's another high quality affordable musical instrument by Cecilio. The brand personally guarantees because if you purchase it comes with a 1- year warranty against any manufacturer's defects.
Mendini MPT-N Trumpet Features & Specifications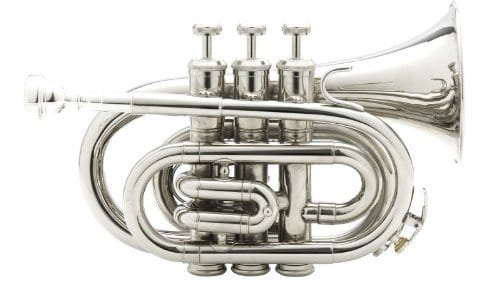 Features
A good looking and long-lasting brass body with nickel plated finish.
Phosphorus copper used on lead mouth pipe.
Comfortable white faux mother of pearl inlays buttons.
Smooth Action Valves.
7C mouth piece, a bottle of valve oil, a soft cleaning cloth and pair of white gloves.
Monel alloy pistons with high durability.
Specifications
Nickel plated
Key: Bb (B flat)
.460" bore and75" bell
Faux mother of pearl inlayed buttons
Smooth Action Valves
Monel pistons
Silver plated 7C mouthpiece
1 year warranty against manufacturer defects
What Customers are Saying
PROS:
A nice sounding and playing instrument! Valves work smoothly, slides are free and don't bind.
TOTALLY worth it.! It's tiny and fun. Look at it. IT'S SO ADORABLE! And the case it comes in is pretty good. Nice and padded, but still only about the size of a shoebox. Totally portable.
I've invested in my grandson's future! My grandson was head over heels excited with this little trumpet. It is perfect for practicing at home, and fits perfectly in his hands.
The nickel finish is beautiful!
Great value, excellent instrument for what it is!
CONS:
Valves work smoothly but when they get a bit slow it will need some oiling.
The case is fine for the price, but it probably wouldn't provide much protection from a bad drop.
A good beginner horn for a youngster, but for more intermediate level it will need something bigger.
Decision Time
First of all, it's a Mendini by Cecilio trumpet. You already know that means only one thing: affordable top quality musical instrument. It's light and it is designed gorgeously. An excellent instrument for kids, beginners and students of the trumpet to start on. It's fun beautiful small pocket trumpet that is easy to carry around and dance with it. It also comes with a 1-year guarantee by Cecilio so you can purchase it immediately without doubts in its quality.
---
TrumpetHub.com is a participant of the Amazon Services LLC Associates Program, an affiliate advertising program. Links marked with an asterisk (*) are affiliate links. If you buy a product through an affiliate link, we will get a small commission without extra cost to you. This helps us earn an income off the free content we provide to you. Thank you for your support!