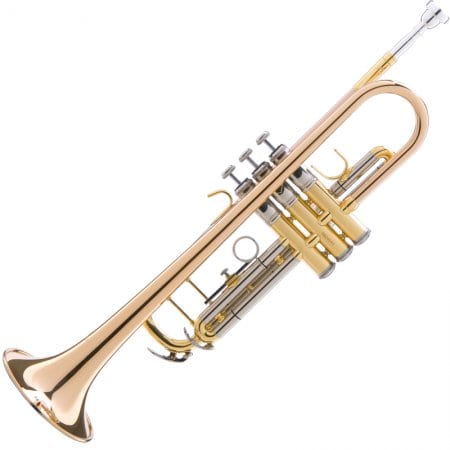 Read our T 480 trumpet by Cecilio review
Cecilio Musical Instruments produce fairly cheap band and orchestra instruments. They are designed with the beginner or student player in mind and can be a good option if you don't want to spend much money. If money is not the limiting factor, check out our list of trumpets for intermediate or pro players instead.
Here we are looking at the Cecilio T 480 Bb Trumpet with Monel Valves*. It offers musicians a well-built medium sized bore, a double-braced design that uses rose or a br lead-pipe, and a warm cordial sound when played.
This trumpet is equipped with Monel alloyed pistons for much smoother and more responsive action and an adjustable 3rd slide lock for more precise intonation. The Cecilio T 480 also has precisely fitted two-piece valve casing that provide this trumpet with the most virtuous and purest action possible.
The Cecilio T 480 comes packaged with a durable nylon-covered shell case (with backpack straps) the standard 12C mouthpiece, a soft cleaning cloth and a pair of white gloves – so you'll have no excuse not to keep your instrument pristine! If you're intending to buy this for a beginner, you might want to also look into getting a tuner.
Cecilio TT-480 Trumpet Features & Specifications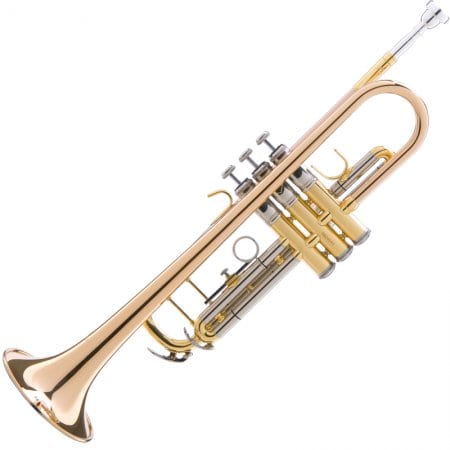 Features
A strong and well built medium sized bore.
A double-braced design that uses rose or a br lead-pipe, which help in producing a gorgeous sound.
Monel valves & pistons.
Comes with hard shell case with backpack straps.
Specifications
Key: Bb (B-flat)
Bore: Medium-large (.459″)
Double braced
Rose-brass lead pipe
Two-piece nickel valve casing
Rose-brass 5″ bell and body
Nickel tuning slides
3rd slide lock
Monel smooth and fast action valves & pistons
12C sliver plated mouth piece
What Customers Are Saying
PROS:
Sturdy, great sound, affordable.
Beautiful horn, and plays terrific.
As a next step from beginner to intermediate player, this trumpet fits the bill. Plays and sounds great.
CONS:
The first valve can get stuck, if the trumpet is not treated in a while.
Decision Time
In summary, the Cecilio T-480 Bb trumpet is a well-built instrument that works well for beginners as well as players that have reached an intermediate level. Plays well, sounds great and comes with some nice accessories thrown in for the price – first and foremost the hard shell case.
Related Posts:
---
TrumpetHub.com is a participant of the Amazon Services LLC Associates Program, an affiliate advertising program. Links marked with an asterisk (*) are affiliate links. If you buy a product through an affiliate link, we will get a small commission without extra cost to you. This helps us earn an income off the free content we provide to you. Thank you for your support!